COOL Science Information Page
Uranium Glazed Pottery
We suggest you read all the information here before purchasing any of our Uranium Glazed Pottery items.
We are more than happy to answer any other questions you may have before you purchase - please use the Contact Us form on our website.
How the atomic bomb changed the face of tableware!
So, what do the atomic bomb and tableware have in common we hear you ask – well surprisingly enough it's Uranium!
Uranium glazes have been used for all kinds of ceramic materials from laboratory equipment, pottery and tiles to tableware. In fact lots of houses and buildings constructed in the US during 1920-1940 had their bathrooms, kitchens and corridors kitted out with Uranium glazed wall and floor tiles.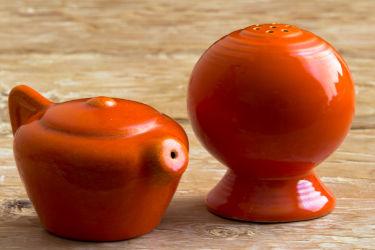 Uranium Glazed Pottery Salt/Pepper Shakers
How did this use of Uranium come about?
Well, it all started with Radium. After its discovery by the Curies, Radium was in demand by many businesses, not least the manufacturers of watch, clock and aircraft dials; as a result Radium production boomed into a major industry in the 1920s and 1930s.
All this booming industry required the mining of vast quantities of Uranium ore (it takes around 3 metric tons of Uranium ore to produce a gram of Radium 226). Once the Radium was extracted the Uranium rich remains were considered a waste product and it's here that ceramics enter the picture.
Various ceramics industries, particularly in the United States, took advantage of this plentiful and inexpensive supply of Uranium waste as it was known that compounds of Uranium could be used in ceramic glazing. By varying the firing and other techniques used in the ceramics industry, Uranium compounds produced vibrant colours ranging from ivory, yellow, green, orange and red through to darker shades of red, blue and brown to black.
Ok, what has all this to do with tableware and the atomic bomb?
Probably the most well-known use of Uranium oxide glaze is in the orange-red dinnerware produced by many US potteries of the 1930s and 1940s. One popular brand was Fiesta® Ware produced by the Homer Laughlin China Company in West Virginia. The Fiesta® range was designed by Frederick Hurten Rhead in 1936 and married art deco styling with bold, vibrant colours.
During WWII Uranium was in demand by the US Government for use in the development of reactors and the atom bomb; this meant Uranium was no longer available for the ceramics industry. Indeed, Homer Laughlin discontinued its red Fiesta® range between 1944 and 1958. On its reintroduction in 1959 de-enriched Uranium was used in the glaze (de-enriched or depleted Uranium has a lower content of the fissile isotope U-235 than natural Uranium) and in 1972 Homer Laughlin stopped all use of Uranium compounds in its glazes.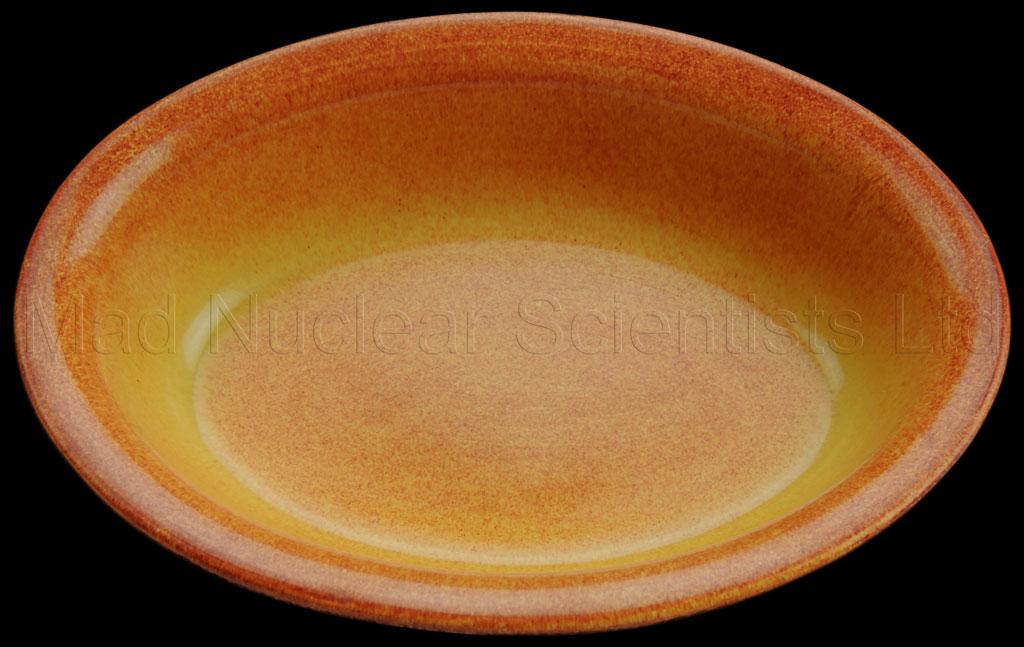 Uranium Glazed Pottery Dish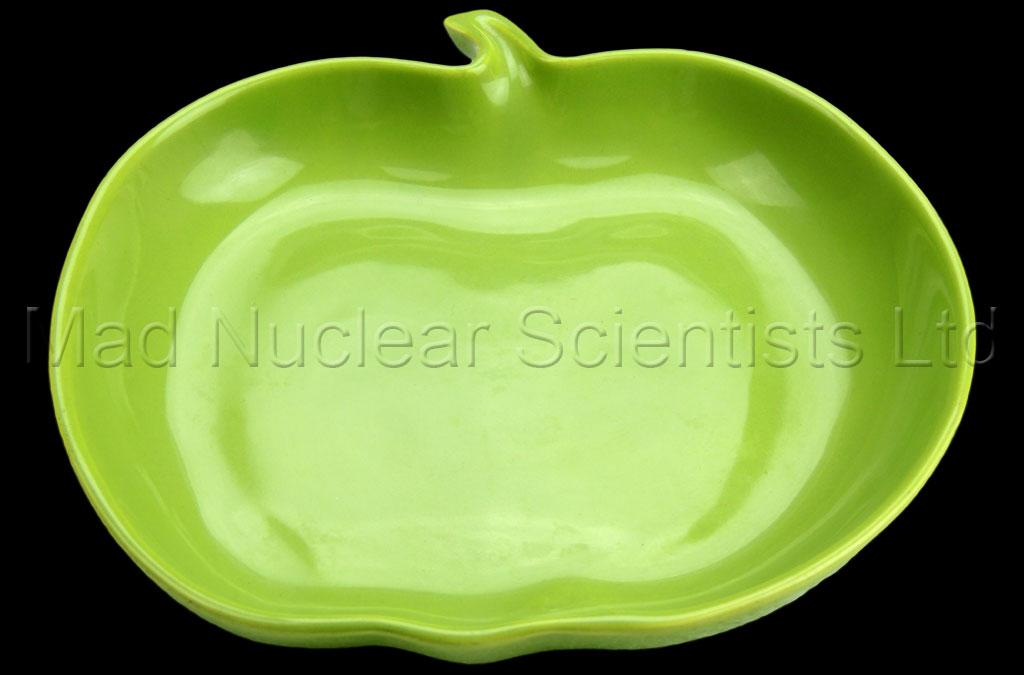 Uranium Glazed Pottery
An unusual apple shaped dish with a green glaze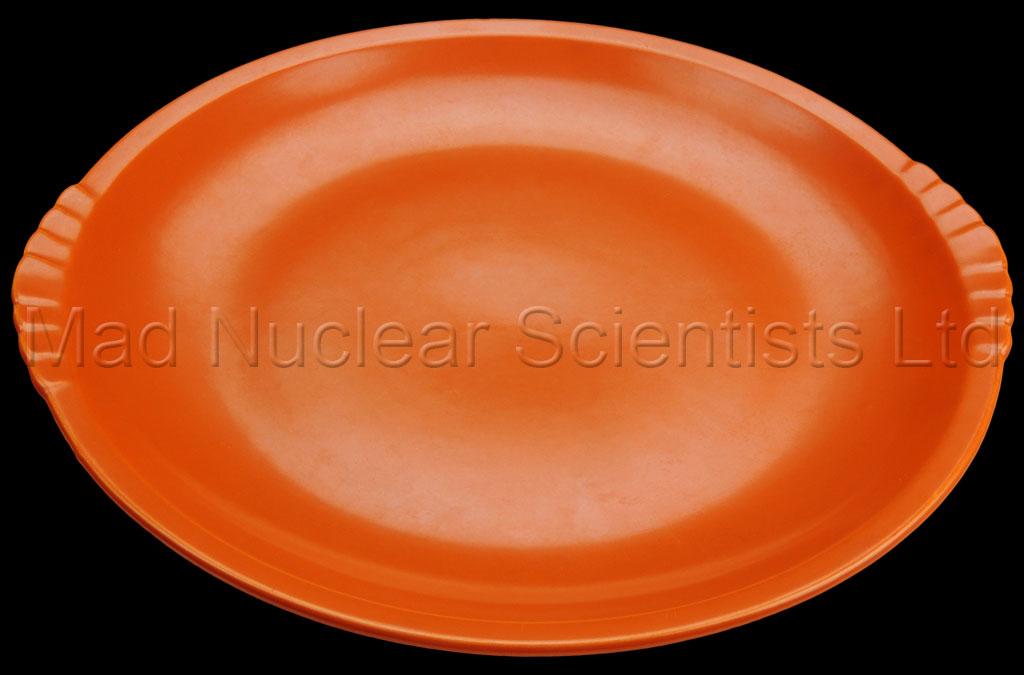 Uranium Glazed Pottery Platter
So, what can you do with it?
Uranium glazed ceramics have become collectors' items; above are photographs of a few things from our collection of Uranium glazed tableware. We have had some Fiesta® ware, a few items made by Vernon Kilns in California and others which are not marked. All the pieces shown are radioactive - although some are hotter than others.
As part of an element collection:
If you have just started a periodic table of elements collection, or you are already building a collection and are looking to represent Uranium, a piece of Uranium glazed pottery is an ideal and safe way to do just that. Uranium glazed pottery is perfectly legal to own and sell in the UK.
Use as a Geiger counter check source?
The Uranium in glazed pottery emits gamma rays, alpha particles and beta particles. The gamma and alpha emissions are weak, making the beta particles the easiest to detect; however, actual readings will of course depend on the type and sensitivity of the detection instrument used.
Intellectual Property Notice
All of the content in these pages is the intellectual property of COOL Science
Any redistribution or reproduction of part or all of the contents in any form is prohibited other than the following:
you may print or download to a local hard disk extracts for your personal and non-commercial use only
you may copy the content to individual third parties for their personal use, but only if you acknowledge the cool-science.online website as the source of the material

YOU MAY NOT

, except with our express written permission, distribute or commercially exploit the content. Nor may you transmit it or store it in any other website or other form of electronic retrieval system.
External Websites Disclaimer
Whilst we endeavour to ensure that any references to external websites are accurate and relevant to the subject discussed in these pages, they are only provided for the purpose of further information the reader may wish to explore.
Their presence is not meant to imply that COOL Science endorses or guarantees either the information found therein, or the organisations, companies or persons who own those websites.
We can take no responsibility for the maintenance or contents of external websites.
All information contained within these pages may be subject to change without notice.